August 19th, 2010
Hey lookee here, I'm on Strummerville
http://www.strummerville.com/diy/marianne_hyatt/
Download me if you dare – it's FRRRREEEEEEEEE!
Filed under
arts, music
|
Comments Off

on Marianne Hyatt on Strummerville DIY!!
May 27th, 2010
http://www.organart.demon.co.uk/aaalive2.htm
The Others, Stoke Newington, London – 16th April '10 – The Others isn't your conventional rock venue, no, tonight we're upstairs, above a 70's looking snooker hall in some kind of DIY community space. No stage as such, bands down one end, on the floor, old armchairs scattered around, friendly space, relaxed atmosphere, boundaries blurred, where does band end and audience start? Slight air of chaos and punk rock, the more than healthy spirit of do it yourself. We're deep in the depths of Stoke Newington, some kind of police incident up on the main road outside as we head for the venue. You'll know you've found the place by the broken vintage synths chained to the wall in the stairwell.  
                    There's all kinds of strange people walking around in colourfully strange dress, there's rather home made looking art on the walls (the venue doubles as a lo-fi art gallery that also hosts life drawing classes on Monday nights), the art isn't that inspiring, then again, hard to get to it amongst the chaos of the cowgirls, the sweet dealers – "got some Dolly Mixtures here" says the dubious looking "punk" in the wrap-around glasses as he produces a sweaty looking plastic bag with three sticky looking sweets "five pence each, don't tell anyone, three for twelve pence to you". DJ's are spinning cheesy 70's/80's disco pop alongside classic slabs of wholesome Black Sabbath, the place fills up pretty quickly… 
           Somewhere through the healthy chaos and confusion, once Cornellius has finished politely ranting and singing and telling us all we know nothing about anything (and just about gets away with it because he does it with an innocent smile and some harmless lefty-hippy good intention), a band finally takes to the 'stage'… They take to the stage from the crowd, they appear to be called COUNTRY DIRT. She's a star in her red stockings and white cowboy boots, the stage is hers, the fake redneck drawl and her talk of putting the cunt in country, you almost want the song to end so she can get in to the teasing performance once more.  The songs are good though, countrified bluegrass, banjos, sunshine, they throw in a rather decent Gram Parsons cover alongside what we assume are their own rather good songs. Songs with great titles, titles like Pussy Whipped, as she coverts around her microphone stand and makes sure you know she's the centre of attention. Country Dirt are fun, they have their tongues stuck firmly in cheek as they bring a collective smile to the face of the venue, they have some seriously good bluegrass country rock there though, they'd be good without her, they're excellent with her. They go down extremely well, she's a star in her big cowgirl hat, her name is Marieanne Hyatt.. 
COUNTRY DIRT: www.myspace.com/countrygrit              
The NO:ID festival was and is part of the NO:ID network, anetwork of artists in East London, a gallery, and a question of identity, working equally with fine arts, performance arts, and musicians. here's some links…
noidgallery.net / theothers.uk.com
Filed under
arts, gigs, music
|
Comments Off

on Fresh from THE ORGAN …. NO:ID FESTIVAL DAY 1 – RUDE MECHANICALS, COUNTRY DIRT
August 5th, 2008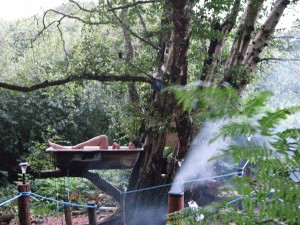 tent 2(tent)
A small cylindrical plug of lint or gauze used to keep open or probe a wound or an orifice.
tr.v. tent-ed, tent-ing, tents
To keep (a wound or orifice) open with such a plug.
[Middle English [tente], from Old French, from tenter, to probe, from Latin tent re:, to feel, try; see tentative.]
I'm still buzzin. Just got back to the mcjob today, and I can't stop thinkin bout Love Tent this w/e. It was the law of the land and the land is wood, so all had to come down with the rain yesterday, but it was worth every rich second. About 50 of us gathered somewhere SE of London, not exactly illegally, but not exactly officially either, on the side of a dip, right next to a giant vibrating pylon and partied hard – in and out of our tents, within the wood and out in the meadow of an ancient, historic field. We came on down, we saw the green, we set up the campfires and cooked over diy bar-b-ques, we played music together, we smoked, we drank, we plunged into a spring fed plunge pool (restored from WWII according to the directions of a 90 year-old local), we hot water bathed in a tree, we swung from another tree's branches over a newborn forest, we cuddled with wild tiger kittens in the wood, we told stories, we fought (one of us girls even slammed a guitar down on another one of our heads), but really we loved ….. the demise of the commodified festival is nigh.
I heard more people than myself bitch about how fed up we are with the Glastos, the Creamfields, the Buddhafields, the Big Chills, the V fest, Reading – hell even the Latitude… I mean if you can't find paradise in Suffolk. Sick of eating food at 1,000% profit, sick of slick overproduced, clicheed music and VIP areas, sick of the London variation of pollution sprawling out to the country, featuring the noise, the ghetto & everpresent dealer; we pulled ourselves up by the bootstraps and did it ourselves for ourselves. We shared the love and our cup overflowed, Honey Lamb.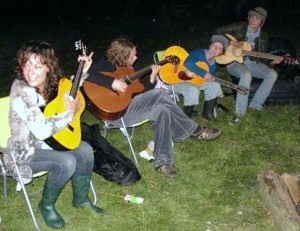 The first night – I arrived 1 night early cuz I'm like that – about 15 of us had a loose guitar & vox harmony jam round a meadow campfire, mainly for the little babies in this family friendly festie. Victoria Alkali, the anti-organiser, wove a lyrical labyrinth with her rich and resonant soprano voce that loomed into a top 40 musical of Abba, Boston, Oasis, The Mamas & the Papas & some other kiddie songs. Glorious. We all tented out and bunked off relatively early. On Friday, more musicians arrived, parked themselves on the campfire couches (someone mentioned it was beginning to look like Big Brother) and we delivered a more dynamic musical set up, with tabla drums & other variations of percussion and ukelele to add to the guitar jam. There were even some original songs in the mix – thanks to Dannie (www.myspace.com/daniellamariamelodies), her mega-multi-talented beau, Mick, and the swoony guitarist Ms Trine Overby.  Some v clever, resourceful folk set up a bar-b-q, with cement blocks, a grill and some wood, to feed about 30 of us – everybody contributed a little something, and we were waddling by the end of it.
I stumbled back to my tent, heard some rustling by the fence in the dark and saw the figure of what appeared to be a white horse. I thought it was a ghost and began sweet talking it. I'm sure this poor horse thought I was an uber weirdo, but was probably more interested in the party that I'd left behind. When I awoke the next morning it was still there, as I'd probably emerged from my tent moments before the revellers crashed out and the lovely ahem rust coloured horse was still there dancing. I gave her some banana and patted her long face, before she trotted off merrily. So sweet I could hardly stand it, but boy howdy did I need it…
I went off to the host's dwelling for a 1st gathering point of the morning. I'd heard there might be some yoga or Tai Chi or acupuncture or osteopathy and headed out for the skinny. When I arrived there were a few kids on the tree swing near the outdoor studio kitchen of the host, who is a mega talented, innovative landscape artist, wood sculptor and tree birthing brother – true master of many trades. He was serenely doling out coffee to some quietly chatting campers from his pot bellied stove, overlooking a spring fed well, which he and some friends had restored to its WWII splendor as mentioned earlier. This guy is amazing – Joc Hare www.logjam.net – just couldn't believe what he's accomplished with a little help from his friends. The spring also fed into a combi-heated copper pipe system to warm water en route to an olde worlde bathtub with feet – IN A TREE! Yes, sir ma'am, I was 1st on that list. I was the Flake girl for a night. Hopefully the pix will be here soon.

Vicki was around playing with the kids and hypnotising us with her voice again somewhere nearby, so I asked her about the healing. She directed me further into the wood and we all pitched in to erect a healing gazebo, then were joined by a few others for a QiGong sesh, followed by a mini class of some v helpful Ashtanga yoga, by the v serene & aptly named Sophia. Grand – I felt about 2 inches taller.
More people arrived, including two friends of mine who had to get the hell out of the swamp sauna London had become over the w/e, apparently. My friend Mister Ben, the mighty film music composer – www.misterben.co.uk – arrived as did the awesome Robert Allwood – YellowMan – and founder of Weird & Wonderful London list (1 of my faves), came with our mutual friend Vince. Robert is so damn hardcore – he'd just had a route canal done the day before and not a trace of Codeine on him. I gave them a tour of everything, including the compost toilet which accommodated 50 of us and didn't even smell.
We had a gorgeous gig that night in a fairy lit stage in front of another diy bar-b-q in the wood, quite near the healing gazebo. The lineup:
Me
Hope Springs Eternal – www.myspace.com/gailstormhastings (GailStorm, Josie & John from Hastings, blew my socks off! Gail & Josie started singing backup in the audience during my set, and I thought I was hearing angel voices)
Kodiak Jack (in the midst of a name change – lovely, winsome vox over groovy, distilled world music)
Jessie Holliday www.myspace.com/jessieholliday
(that chick can seriously play some guitar and somehow makes her voice sound like an Urban Garage track).
Randall Stevens – www.myspace.com/randallstevensuk
(playing at 100 Club on 19th Aug – do beg, borrow & steal.
Later we all came back full circle to the meadow and sang up the sun uh storm. Why did it have to end?
I'm spoiled. I don't want to come back from never, never land, but as far as I'm concerned this is a rehearsal for the future. The human race is not getting the message that we can't sustain the lives we are leading, that we are not making changes fast enough and are in freefall toward a collapse (squawk, squawk, the sky is falling!). I firmly believe we will need to develop skills to survive in a very different kind of world, suggested by this particular camping experience. Hell, more than suggested by the Climate Change Camp or Earth 1st Summer Gathering on August Bank Holiday W/e. Come the apocalypse, I know where I'll be petitioning for a geisha's apprenticeship. McDonald's, Coca Cola & Sony can go buy tickets to the moon, for all I care.
Filed under
gigs, music
|
Comments Off

on Love Tent 08 – Rehearsal for the Future