April 15th, 2010
Just when you thought it was safe to put yer pistol in yer pickup, COUNTRY DIRT skid off with full cavalry horsepower in a cloud o pure white gypsum at the NO:ID 2-day indoor festie – The Others, Stoke Newington – 16 April, doors open 7pm.  Take it away you LONESOME COWBOYS FROM HELL – http://noidgallery.net/festi.html
"This is a two day indoor festival featuring some of the most cutting edge novel + established acts in musical live performance London's underground has to offer.
All artists have in common that we understand being on stage as being in character, and all projects are famous for combining amazing musicianship with great showmanship.
Friday April 16th is featuring some astonishing acts, mainly acoustic, headlined by the Lonesome Cowboys from Hell which are somehow Psycho-Country or Country Jazz. Mescaline for Methodists play dancy world fusion to round up the night.
Both nights are moderated by the amazing Aunty Luxury (Annouchka Bayley), acts being connected by DJ's and live performances of the unexpected kind. There will be a bar, and a merchandise and record stall.
MAIN ACTS FRIDAY 16th:
Rude Mechanicals: Absurd rock music, punk funk caberet – musically somehow reminiscent to some stuff by Frank Zappa, but voice and appearance of Jo Robert are beyond comparison. Jo Roberts – vocals, harmonica; Cos Chapman – guitar, bass; Guy Avern – bass, keyboard; Kate Newell – oboe, keyboard, concertina; Dylan Bates – violin, trumpet; Tom Greenhaulgh – drums.
Country Dirt: if there is "alternative country music", this is it. Crafted with great musicianship, this ensemble questions and transgresses the limits of a genre. Featuring Marianne Hyatt.
Lonesome Cowboys from Hell: a mix of traditional and self-constructed instruments creates music that can best be described as "psycho-country", fronted by Frank E. (Calum F. Kerr) whose lyrics have been called "the last word on what's to be said about the art-world". Seriously one of the most interesting combos that came out of the "noughties". "JK-EE" Tim Fitcroft – ukuleles, guitar, accordion; "Jan E. blister" Jan Suchanek – bucket bass; "A.N.Other Musician" Billy Smith – fiddle; John "D. Vile" Devolle – drums.
Mescaline for Ministers: A tribute to Peyoti for President, who have been touring world wide with famous Manu Chao and are London's most sought-after world fusion band. Dance your shoes off. All musicians have requested to not reveal their ID… "
The Others, 6-8 Manor Road, London N16 5SA   http://www.theothers.uk.com/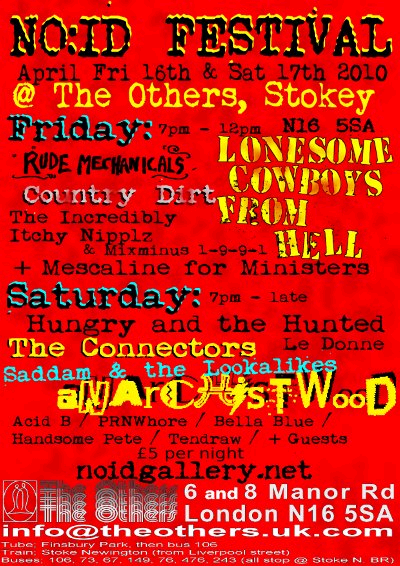 Filed under
general
|
Comments Off

on NO:ID Festie – The Others – featuring Country Dirt 16th April 8pm