November 23rd, 2009
No, I did not get to sing w legendary Jack Ashford's Funk Bros on 9th Nov, down The Borderline.  However, I am Superstar Sub for a Day on the mighty Family of Rock blog – 2DAY.   Check me out & MO on the link below:
http://blog.familyofrock.com/index.php/2009/11/talking-motown-revolutions/
I hear a rumour that Thee Jack Ashford is in town, playin at the Borderline – and there might even be an open mic sesh too!  Miracle of Miracles, when Smokey's in your eyes!! …. well, you can take the grrrl outta the country… Nope, that part never happened, but who cares, I'd still go back for Jack to do it again.  Am I crying?  I should be.  I didn't want it to end.  The neo-Funk Bros kinda snuck up onstage, whilst we were all swayin round, trancelike, to the pre-show, canned Motown soundtrack of our lives, & treated us to a jam that would tease us mercilessly…  Lineup included 2 guitarists – one RAWK virtuoso, the other, Mike Fango, made sounds that might force me to chuck my Pro-Tools out the window, and Man what a drummer!  Brendan Calhoun (The Tito Jackson Band) seemed to hypnotise the bassist, Jacomo, a UK stand-in, and was perfectly synched up to Felix Hernandez on congos & chimes.  Baritone saxophonist, the trombonist & trumpeter Carmello Argentini Scapin all gave good horn.  The keyboardist was simply sublime.  We were introduced to them solely by the music they made & they defo did not disappoint.
Blowing down the house
 A plummy guy named Chris put a mic to his lips (is that what I'd mistaken for an open mic?) and introduced the true star of the show:  the legend himself, Jack Ashford.  He parted the crowd like Moses and mounted the stage like Ali to give us a soul symposium that would silence any backchat.  2 Grammies, a lifetime achievement award and, next year, a Star in Hollywood's Graumans Chinese Theatre are all matched by his colossal stage presence; though equally balanced by a real artist's humility:  "The greatest achievement is to share success.  Success for one person gets stale" and "You are the reason for my success.  I just made you happy."
Ashford seems to perceive himself solely as conduit between the past and future hope of Motown.  When he arrived "… back when my hair was dark, before I became a clean cut caveman…", he asked God to make him special.  Ask and ye shall receive.  On the stage before us, he spun a winding tale of intrigue involving other legends such as Sherrie Payne (The Supremes); Joyce Vincent (Tony Orlando & Dawn) – " 'Oh Jack, you taught me so much' "; and Berry Gordy himself, whom he credits as the reason he is here today and why's he's married.  (Had to love it when his wife heckled him from the audience, at that point!)  Motown was a "VERY close family", maybe too close.  Studios were referred to as 'the snake pit':  "When the sniping was over, the hits were made".
Snakepit 21st century style
 He made quite a point about the anti-star system of Motown – "Berry did NOT put all those musicians together." and "Smokey Robinson didn't even own a car!" – describing it as a musical pilgrimage to Detroit, Michigan by "different faces and different races":  "We did not know we were making history." He also explained why Motown cannot be recreated in our contemporary cult of celebrity:  "Imagine Beyonce, JayZ and Bootsy Collins together in the snake pit.  There'd be no one left standing."  Perhaps a rare insight into why he would moonlight.  Since his work was never credited at Motown, he simply shadowed its modus operandus outside its boundaries. He cranked out some hits for Stax Records and even Sesame Street, but would fly the nest in the mid 60s, with other such notables as Mike Terry & Joe Hunter, to sign a $25m recording contract with RCA as Pied Piper Productions– the mighty (snarrff) Giant holding a torch for Northern Soul enthusiasts everywhere, even as I write.  I never realized he'd co-written a neat little hit and title track for the film 'You only live Twice' for Lorraine Chandler (whatever, Nancy!).
The first time Jack Ashford graced the UK, he tells us, was in that tour organised by Brian Epstein in 1963, with Kim Weston, The Kinks and Marianne Faithfull which was cancelled whilst he and Kim were en route, mid-air.  Nevertheless he did make it back in 65, in a tour organised by Bobby Shafto (Radio Caroline), which would introduce Motown to the UK officially.  Someone in the audience whispered in my ear that the show was broadcast live from the goodship lollypop, Radio Caroline, but I dunno, did that ever happen?  Where do I download?  ….. answers on a postcard, please. My head was about to spin.  Jack Ashford told us so many stories, gave us so much, so much belly laughter.  Hell, we were only halfway through the showand we hadn't even heard the singers, whom he soon introduced as Janine Marie, Valencia "Baby Girl" Robinson & Art Madison as they took the stage.  When he struck up the band and exited the stage, I could have died happy really.  They launched into the 1st choon, 'Ain't too proud to beg', I was in a double-digit figure female herd that rushed the stage and danced like banshees.  The set-list went a little something like this:
Ain't too Proud to Beg
Heard it through the Grapevine as Marvin (Art) vs Aretha (Baby Girl) mashup
Signed Sealed Delivered
Papa was a Rollin Stone
What's Goin On
My Girl
Losin You
I Wish
All very competent ….. with few exceptions.   I mean there were some fluffed lines and frankly should the singers be singin from a hymn sheet?  Some of them have been on this tour for yonx. I wanted to see some soul shapes bein thrown around – show us how it's done from the stage ya know?  Kinda brought me down.
At one point thee Jack Ashford did grab the mic from offstage left, where he was sneakily playing his tambourine like back in the day, and paused the show to deliver a sermon – "Once I was the teacher, now I'm the preacher" – for his dearly departed collaborators and conspirators from the snake pit, including Johnny Ripper, Joe Henderson, Earl van Dyke, James Jamerson.  It was moving, in spite of the cheesy keyboard and chime accompaniment.  I'll write it again, Jack Ashford is the star of this show.  See ya in church!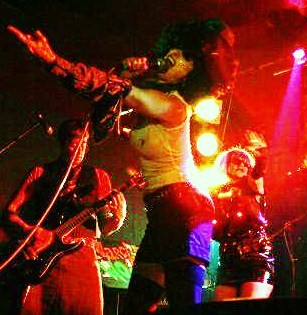 Filed under
general
|
Comments Off

on Got my FRock On! – Talkin Motown Revolutions….